Cryogenic Drill Bits and Drill Bit Sets
Norseman cryogenic drill bits are premium cutting tools designed to perform against hard materials in the most demanding conditions. A cryogenically treated drill bit from Norseman is manufactured for work-hardening grades of stainless steel and other difficult to drill materials. The cryogenic treatment process changes the structure of the steel. The result is a significant increase in the cutting life as compared to even the highest quality high speed steel drill bits. Norseman cryogenic drills can reduce your cost-per-hole due to its extended life and cutting performance.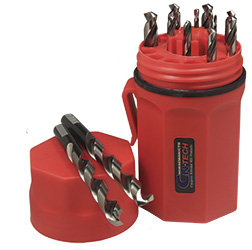 Advantages of Norseman Cryogenic Drill Bits
Nitrided coating creates a surface hardness to 70 Rockwell C, exceptional corrosion resistance and heat.
Cryo Treatment — increases toughness while reducing brittleness.
Replaces cobalt drills when drilling series 300 & 400 stainless steel.
Excellent for Truck & trailer repair, Recreation equipment repair and MRO distribution partners.
Manufactured in the USA.