Gold Edge Cryogenic Drill Bits and Drill Bit Sets
Gold Edge Cryogenically Treated Jobber Length Drills
GoldEdge drill bits are premium cutting tools designed to perform against hard materials in the most demanding conditions. A cryogenically treated drill bit from GoldEdge is manufactured for work-hardening grades of stainless steel and other difficult to drill materials. The patented cryogenic treatment process changes the structure of the steel. The result is a significant increase in the cutting life as compared to even the highest quality high speed steel drill bits. GoldEdge drills can reduce your cost-per-hole due to its extended life and cutting performance.
Advantages of GoldEdge Cryogenic Drill Bits
Longer Tool Life Due to Low Operating Temperatures

Lower Cost Per Hole
Tool Change Reduction

IT IS NOT A COATING

Sharpen the Drills - the wear resistance will be similar to new drill performance

3-Flats on Shank for Positive Chuck Grip
135° Split Point Eliminates Walking
Shop For Cryogenic Drill Bits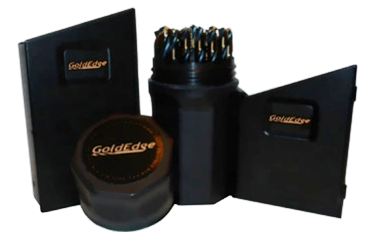 GoldEdge Tools utilizes a patented cryogenic treatment process to increase cutting tool life, which translates into savings for our customers; measured through lower tool replacement costs.Our Cryo product lines include premium Drill Bits, End Mills, Drill/Tap Combo Sets and Left-Hand Drill & Extractor Sets.
We invite you to see for yourself how GoldEdge tools can save you time and money. GoldEdge tools are proudly Made In The USA. Experience the GoldEdge difference!
Benefits of Cryogenics
Tools manufactured at GoldEdge are among the best and longest lasting in the tool industry thanks to its patented cryogenic treatment process. When a tool is cryogenically treated, a few of the many benefits include:
Increased Life of the Tool
Increased Torsion Strength
Faster Heat Dissipation
Smoother Hole Finish
It's also important to note that cryogenic treatments are NOT a surface treatment as is the case with titanium and various other coatings on the market. When a cutting tool is cryogenically treated, the properties of the tool's structure are altered. Unlike coated drill bits, a GoldEdge drill bit will maintain its cutting edge longer and never lose its cryogenically enhanced properties.